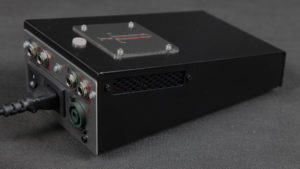 Guitar Board Amp SHP Stereo High Power
This small but powerful amplifier uses exactly the same technology we use in our well known Camplifier product line, which serves KPA Toaster users all over the world since 2012. We updated our Camplifier product line in 2019 for more power, universal mains and we eliminated the internal fan.
Since we offered a pedal sized amplifier with the previous Camplifier line and people loved it, we figured we should offer a similar product again, but packed with the latest technology we now use for the current amplifier line.
The demand now is even greater than before, because modern guitar solution such as the Kemper stage, Line6 HELIX, Headrush, Mooer, Digitech, Boss….you name it ; take over the modern guitarists world by storm.
Most of these products are guitar pre-amps which process the guitar signal with amp models, effects and speaker models (or profiles).
To use them in a live or band rehearsal situation you need some sort of power amplifier. That power amplifier should be transparent (the sound should come from the floor unit, not from the power amp), light weight and powerful.
This is what we offer with our GBAs Guitar Board Amps !!!
Here are some of the GBA features: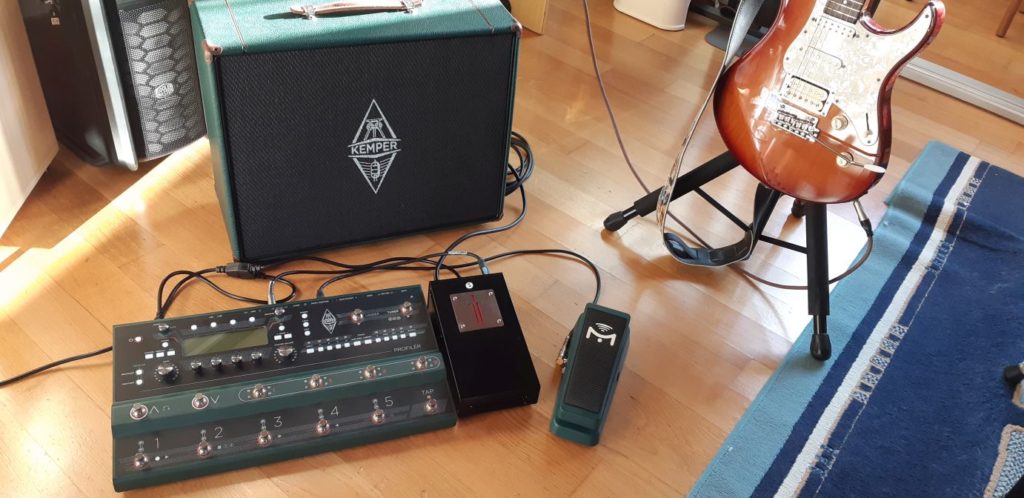 Traveling the world : The GBA SHP can handle all mains standards this world has to offer (85-265V / 50-60Hz), without any action needed from your side. No more worries about the local mains standard during your next world tour. Just plugin and play.
Use that cabinet, no matter what : Most guitar cabinets are 8 or 16 ohms and and even 4 ohms, It is always good to have the choice and be able to play with what ever cabinet is around when you need one, right ? Four ohms, eight ohms or sixteen ohms – it does not matter. The GBA SHP will work with all of them.
Last, but not least – MORE POWER !!!! : People have never complained about having not enough power with the previos model. It delivered 2×90 watts@4 ohms or 180 watts@8 ohms at the bridged channel. That has been more than enough for almost all situations. With the new GAB SHP both stereo channels can be bridged, so one cabinet can be powered with up to 280watts RMS power and with up to 1250 watts burst power. The days are over when you might have to worry about having not enough power on your hands with your GBA SHP.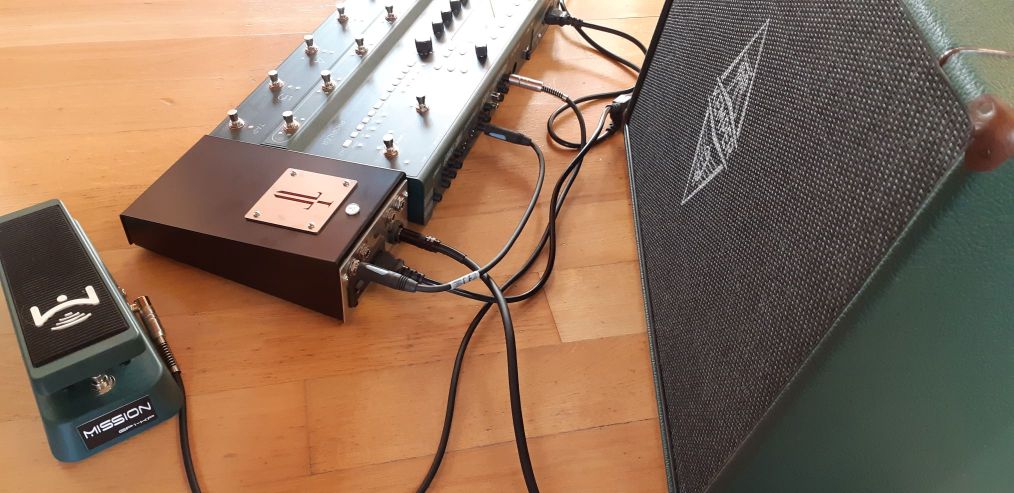 Burst Power 1250 W : The new amplifier now runs internally at much higher voltage levels and its power handling design has been vastly improved. All of this leads to much higher burst power numbers. Burst power is the power the unit can supply to a speaker cabinet for a very short time. You can think of it as "attack headroom". That means your attack will stay nice and punchy, fast and clear – without compression or signal distortion.
The GBA Stereo High Power will add a transparent, high power stereo amplifier, comparable to a 200+ watts tube amplifier head, to your pedal board or to your modern stage board.
*The maximal power the GBA SHP can deliver is limited by the max. power capabilities of the internal power supply only.
That means that power is independent of the speaker cabinets impedance, which is connected to the GBA (4+8+16 ohms).
For example : A single cabinet on one of the stereo channels can get max. 280watts , regardless of its impedance (4, 8 or 16ohms).
If two cabinets are connected to one stereo channel each, the 280 watts will be distributed to these two cabinets (2x140watts).
The bridged mono output will also deliver 280 watts "only", but it will work with double the internal voltage levels than the stereo outputs and therefore its burst power (power which can be delivered without distortion or compression for a short time) will be more than double the burst power of each stereo channel (1250 watts).
419 Euro*
outside EU and Switzerland *499 Euro including German VAT for customers inside EU / prices are excluding shipping cost
2 x 140 watts @ 4+8+16 ohms stereo*

1 x 280 watts @ 4+8+16 ohms mono*

burst power 2 x 500 watts at the stereo outputs

burst power 1 x 1250 watts at the bridged mono output

jack inputs (unbalanced)

speakon - 1/4" combi sockets for speaker connection

universal mains (85-265VAC/50-60Hz)

IEC socket

power cable included

weight: 1,8 kg

dimension: HxWxD 85x130x230mm