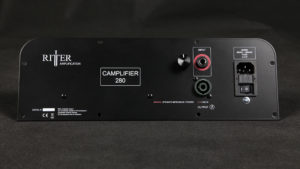 280W add on amplifier module for the KPA toaster
The new Camplifier 280 is the successor of the legendary Camplifier 180 amplifier module for the Kemper Profiling Amplifier "Toaster". Hundreds of guitarists world wide use their Camplifier 180 to amplify their sound in the rehearsal room or on stage, since we introduced it to the market in 2013.Although the 180 was nearly perfect ;-), we were able to introduce several improvements into the new Camplifier 280 :
No internal fan : The 180 had an internal fan for cooling, which one could barely hear at all, even in very quite situations.More modern heat transfer technology enabled us to eliminate even this fan completely.That means for you : The Camplifier 280 works 100% noiseless.
Traveling the world : We offered an optional mains voltage selector switch for the 180, so you could take the Camplifier anywhere in the world, where they might have a different mains standard, and use it there. Although that worked fine, one had to be aware of the local mains standard and switch the selector switch from 120V to 230V or vise versa before switching ON the unit. That is a thing of the past now. The Camplifier 280 can handle all mains standards this world has to offer (85-265V / 50-60Hz), without any action needed from your side.No more worries about the local mains standard during your next world tour. Just plugin and play.
Use that cabinet, no matter what : The Camplifier 180 was limited to a minimal speaker cabinet impedance of 8 ohms. That meant you could not use your old 4 ohms cabinet, or the 4 ohms cabinet which might have been provided by the local club you were playing in. Although that has been no big problem, since most guitar cabinets are 8 or 16 ohms and not 4 ohms, it is always good to have the choice and be able to play with whatever cabinet is around when you need one, right ? Four ohms, eight ohms or sixteen ohms – it does not matter. The Camplifier 280 will work with all of them.
Last, but not least – MORE POWER !!!! : People have never complained about having not enough power with the 180. It delivered 180 watts@8 ohms or 90 watts@16 ohms and that has been more than enough for almost all situations. However, it is always nice to have a little more. The days are over when you might have to worry about having not enough power on your hands with your Camplifier.
Here are the new power specifications :
| | | | | |
| --- | --- | --- | --- | --- |
| RMS power @1% THD @230V | 4 | 8 | 16 | ohms |
| power | 280 | 245 | 125 | watts |
Burst Power 500 W : 5 years are a long time when it comes to technical development. The new class D power amplifier of the Camplifier 280, together with its modern internal power supply, is technical superior over that of the 180. We could not complain about the sound quality of the 180 and there was not much to improve there. However, some test users of the new amplifier state that it sounds even more transparent and more defined. The new amplifier runs internally at much higher voltage levels and its power handling design has been vastly improved. All of this leads to much higher burst power numbers. Burst power is the power the unit can supply to a speaker cabinet for a very short time. You can think of it as "attack headroom". That means your attack will stay nice and punchy, fast and clear – without compression or signal distortion.
The Camplifier 280 will transform your KPA toaster into a guitar amplifier head, comparable to a 200+ watts tube amplifier head. Put your Kemper Toaster on top of a guitar cabinet , plug it in and start playing !!
335 Euro*
for customers outside of EU and Switzerland
*399 Euro including German VAT for customers inside EU / prices are excluding shipping cost


English user manual