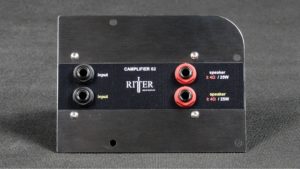 Camplifier S2
2x25W stereo add on amplifier module for the Kemper Profiling Amplifier. This module is mostly used by players who want to amplify their KPA at home or in the studio. You can use your stereo effects by sending power to two separate speaker cabinets or to a speaker cabinet that has been wired to have two separate channels. 2 x 25W are loud enough to wake up your neighborhood and powerful enough the play the small jam session in the local pub.
It is, however, not intended to be used in a Motörhead cover band or any other Rock-Metal like band with a loud Rock drummer. If those are not the situation you usually play in, the Camplifier S2 offers some unique benefits to you. It is very small and lightweight. Since it covers less than half of the backside opening of your KPA, there is still enough space in the cavity to store cables, audio interfaces and the like.
The Camplifier S2 does not have a fan. You won`t hear anything other than your guitar sound from it. It can handle almost any speaker cabinet impedance there is (4-16 ohms), so you do not have to worry about that. Just connect your speaker cabinets and start to play.
231 Euro*
outside EU and Switzerland


*275 Euro including German VAT for customers inside EU / prices are excluding 

shipping cost


Signal input (from Direct OUT, Monitor OUT or Main OUT)

Compatible to 4ohms, 8ohms or16ohms speaker cabinets

2 x 17W clean power @ 8 ohm

2 x 25W clean power @ 4 ohm

2 x 9W clean power @ 16 ohm

Weight : 900 g  including power supply

fan-less = noise – less design !

110V - 240V / 50Hz - 60Hz ready for touring the world