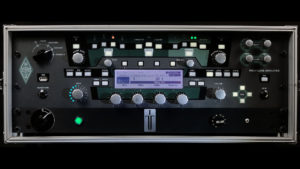 2x180W stereo power amplifier rack unit for the KPA
The Camplifier Rack 360 offers two separate and independent channels. You can use your stereo effects by sending power to two separate speaker cabinets or to a speaker cabinet that has been wired to have two separate channels (such as the Marshall 1960 cabinets , for example).
Speaker cabinets with an impedance down to 8 ohms can be powered with up to 180 watts per channel. Both stereo channels can be patched to play the same signal to two separate speaker cabinets by sending signal to the right signal input of the Camplifier Rack 360 only.
461 Euro*
for customers outside of EU and Switzerland
*549 Euro including 19% German VAT for customers inside EU / prices are excluding shipping cost
2 x 180 watts @ 8 ohms mono

2 x 90 watts @ 16 ohms stereo

2 x 360 watts max

jack inputs (unbalanced)

speakon - 1/4" combi sockets for speaker connection

illuminated power switch

voltage selector switch (120V/230V) for world wide usability

IEC socket

volume knob

power cable included in delivery

weight: 3,0 kg

1 RU