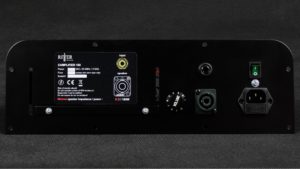 180W mono ad on module for the KPA toaster
The Camplifier 180 is your perfect solution if you want to upgrade your KPA lunchbox to become a power head fast and easy.
Remember the old times when we used to put our amplifier head on top of the cabinet, plugged it in and we were ready to ROCK ?  With the Camplifier 180 you can just do that again with your KPA toaster ! Some people might think that 180W would be "not enough" because the Kemper Power Head uses a 600W amplifier.
My answer to that is : Do not worry ! Forget about the whole "transistor watts vs. tube watts debate"  for a moment and try it yourself. Test your KPA + Camplifier 180 combination at home, in the studio and even on large stages. If you are not happy with it – send it back. We have a 60 day satisfaction guaranty. Enough time for you to test in in any given situation.
Why are we so confident that you won`t give it back ? Because the Camplifiers are used by Punk to Death Metal bands on their tours for many years now ! Those bands play in small clubs and even on festival stages. We even have customers using the Camplifier 180 for bass guitar in Punk Rock bands.
True!
335 Euro*
for customers outside of EU and Switzerland
*399 Euro including 19% German VAT for customers inside EU / prices are excluding shipping cost


180 watts/8 ohms

360 watts max

jack input (unbalanced)

speakon - 1/4" combi socket for speaker connection

illuminated power switch

IEC socket

power cable included in delivery

120V and 230V version available*

voltage selector switch (120V/230V) available (optional) for world wide usability

volume knob available (optional)

weight: 1 kg